Order Selma 50 Ride T-Shirts, Cycling Jerseys & Arm Warmers!


Selma to Montgomery Registration
Registration includes transportation for you and your bike to Selma from Montgomery.
Cost: $95 Late Registration (after January 31, 2015)
includes a FREE Selma to Montgomery National Historic Trail Lapel Pin



We are limiting registrations to the first 355 registered riders due to limited bus space! So, register TODAY!

We appreciate the overwhelming response to the Selma ride. However, once we reach the 330 rider limit there will not be a wait list and there will not be on-site day of registration. Due to logistics, time constraints, and rider safety we feel this is the most we can accommodate. We appreciate your understanding and support.

SPECIAL PRICING FOR YOUNG RIDERS when registering with an adult rider

Shirts can be purchased for $15 after January 31, 2015.

There are several ways to pay: PayPal with your Debit/Credit Card or by check.
There are no additional fees to register online!





You are only allowed to use an e-mail address once per registration. If your family shares a single E-mail address,
each registration can include up to 7 additional riders as part of the same registration.

Online registration ends when 330 riders are registered OR on Friday, February 20, 2015 at 7 PM CDT.

Proceeds from the ride will benefit the Dexter Avenue Parsonage Museum.

Commemorative Ride Jerseys, Thermal Arm Warmers, and Cotton T-Shirts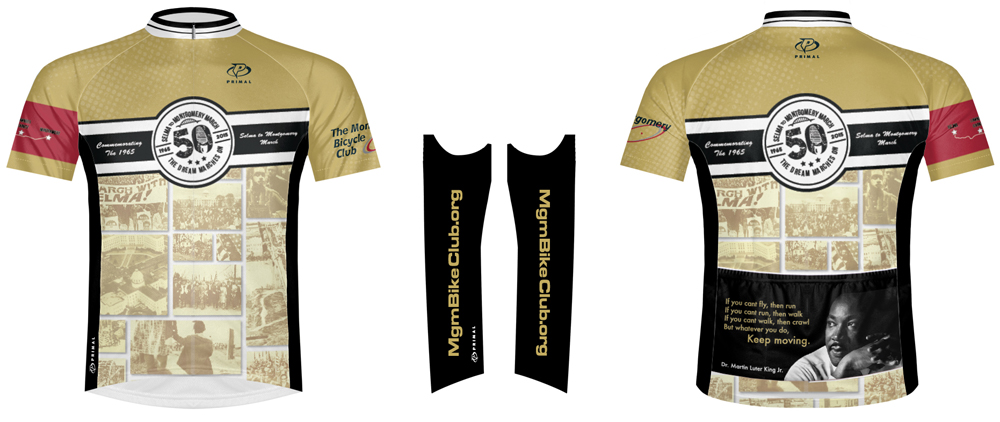 Commemorative Ride Jerseys (men's & women's cuts) will be available for purchase at the time of your registration. This is a sports cut raglan sleeve jersey, full length YKK hidden zipper, 3 rear pockets, elastic at the sleeve and waist. Made of Speedpro fabric - plaited double knit fabric with micro yarn on face and higher denier filament yarn on back. Double knit fabric has push-pull effect, pulling moisture from the inside of the jersey & pushing it off the outside. SPF35. Fit Guide is https://www.primalwear.com/t-fitguide.aspx. The jerseys order will be placed the day after the ride and will be mailed to you by May 8. We also have matching thermal arm warmers and cotton long-sleeve shirts. You may order the Commemorative Ride Jerseys, Thermal Arm Warmers, and/or T-shirts through registration even if you don't participate in the bicycle ride.